Welcome To The Netherlands
From A Democracy to a Police State

Demanding Justice for Joost Knevel.
By Janet Ossebaard (Fall Cabal)
Music: Beethoven, Mondschein Sonate
Helma Friday 9th April 2021
Friday 9th April 2021 
step by step we get closer to the origin of the CV19 virus
In the meantime, not only China but also the USA is mentioned in the creation of the virus.
We are thus just one step away from the base of all this misery. The real origin is guessable. The applied method "Gian of function" originated in the Netherlands under the leadership of Ron Vouchier and the ErasmusMC
@Nachtzuster2
Stop Lockdown Sunday 4th April 2021
🐰 DESPITE THE LAST WEEK SUNDAY ON THE MUSEUMPLEIN, WHERE MORE THAN 300 PEOPLE ARE BAN IMPOSED, DEMONSTRANTS CONTINUE TO COME. THE CORONA PROTEST CONTINUES. THE EASTER BUNNY IS ALSO PRESENT ON THIS 1ST EASTER DAY AND DISPENSES CHOCOLATE EGGS. On the cover photo an 85-year-old corona protestant who speaks extensively. The action is very pleasant. Just like on other Sundays, people dance and talk to each other. Protesters carry protest signs, and we again see many yellow PUS with inscription, an increasingly recognizable icon of protest. Police are present to a limited extent, 10 to 15 flat caps. The ME is not visible, but is located elsewhere (on Marnixstraat). There are also Romeo vans in the area that are especially close to the Vondelpark. In contrast to the corona protest elsewhere in the Netherlands (Hellevoetsluis) this Easter Sunday, there will be no large-scale police intervention. The weekly ME swipe action is omitted. It makes it clear that the action can go smoothly without this large-scale display of police force.
In this thread you can read how liability is regulated around the administration of a vaccine: https://twitter.com/Nachtzuster2/status/1365058171975438339… The Dutch state attorney explains that anyone who administers a vaccine is legally responsible for any 'side-effects', damages and other consequences a vaccine may have on the receiver. It is up to the nurse to inform the receiver, so that they have the possibility of providing informed consent. The state only helps the nurse with proper information and is not liable for damages.
DUTCH: In deze thread kun je lezen hoe de aansprakelijkheid is geregeld rondom het toedienen van een vaccin: https://twitter.com/Nachtzuster2/status/1365058171975438339… De Nederlandse landsadvocaat legt uit dat iedereen die een vaccin toedient wettelijk verantwoordelijk is voor eventuele 'bijwerkingen', schade en andere gevolgen die een vaccin kan hebben voor de ontvanger. Het is aan de verpleegkundige om de ontvanger op de hoogte te brengen, zodat deze 'informed consent' ('geïnformeerde toestemming') kan geven. De staat helpt de verpleegkundige alleen met de juiste informatie en is niet aansprakelijk voor schade.


Credit:  @smartprison
20 march 2021 Worldwide protest in Amsterdam. Video editor Hugo Gietelink
FREEDOM MARCH After the police had ended demonstrative coffee drinking on the Museumplein with water cannon and arrests, a freedom march spontaneously arose. Loudly, the protesters leave the square and walk in a procession towards the Leidsekade, where they are surrounded by the police. A thousand demonstrators are detained there for many hours. This is how the police want to prevent the demonstration from continuing. After a few hours, a start is made to disperse the protesters with buses by releasing them at various locations on the outskirts of the city. It takes a long time, the last bus load does not leave until 6 and a half hours after the start of the containment. Enclosed with wet clothes from the water spray campaign on the Museumplein and the drizzly weather, without toilet facilities and also without food or drink. Food parcels are thrown from the other side of the water by sympathizers. Despite the collective deprivation of liberty, the protesters remain largely positive, although the limits have also been reached. There is singing, dancing and a lot of talk, but everyone is happy when they are finally free again after the confinement. The protesters can be stopped, but the torch for freedom and democracy will continue to burn.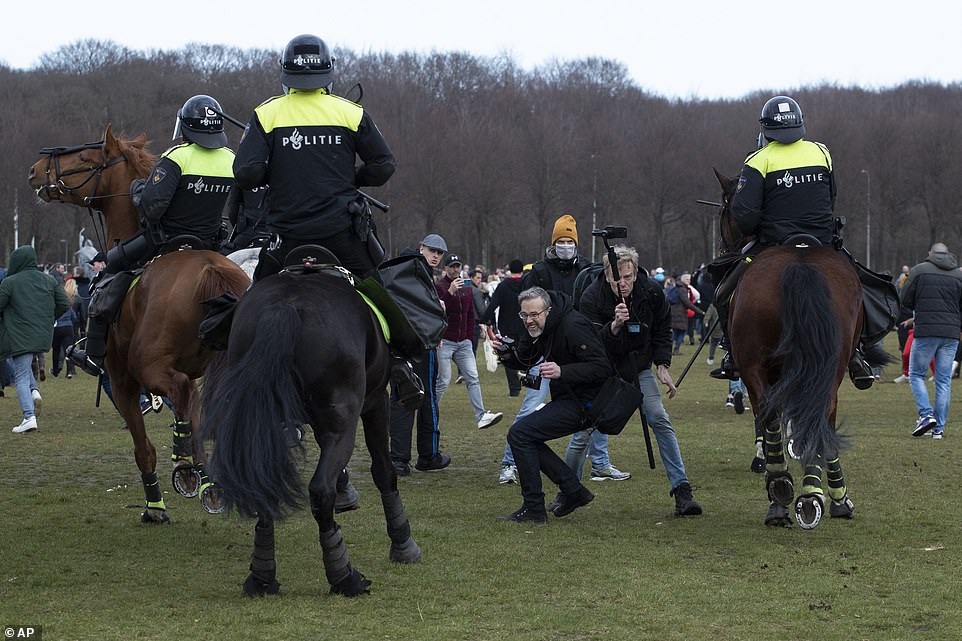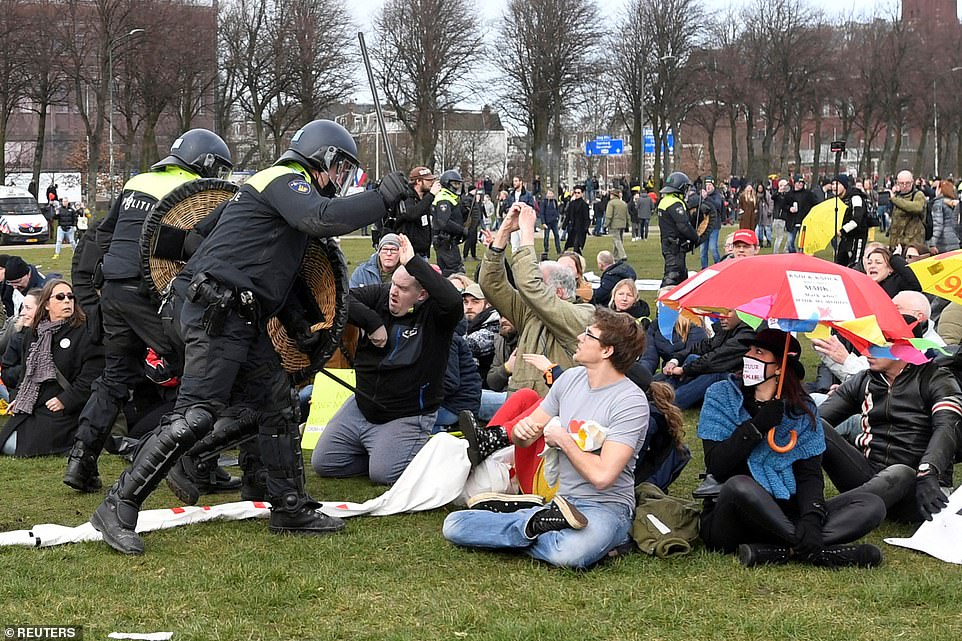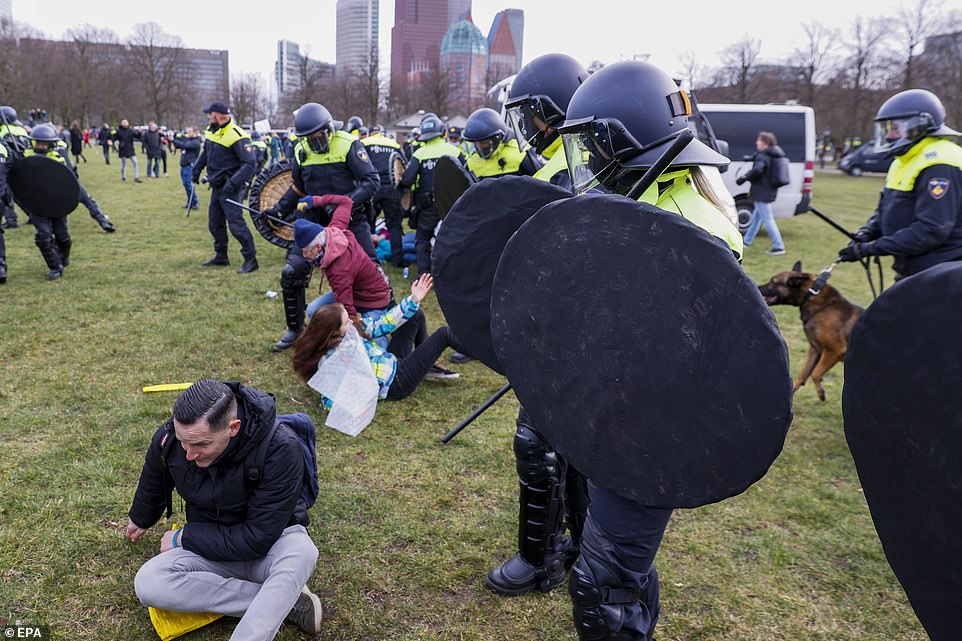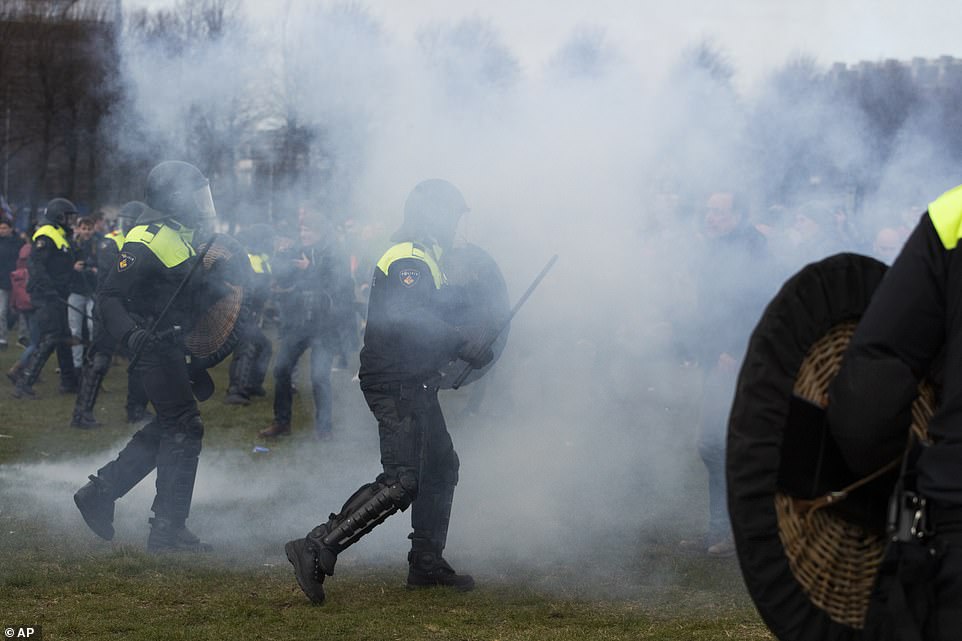 Wappie
Even if you avoid the mainstream media, there is hardly any escape possible from their programming. And that is to be understood in the most literal sense: the programming of your mind with language, through a medium, such as the television or a centrally controlled social media platform. This programming is only as efficient as the words that are used, and so the words must be chosen very carefully. Once proven successful, they will be repeated, and again repeated ad infinitum or until the programming is no longer needed. The programmed will now carry on the message.
Linguistic programming is deployed within a large spectrum of severity. It's used a lot in marketing, but politicians and their spin doctors follow the same trainings as those marketers. To them, there is a division between them and you; they are working on you. Language must be an integral part of any of their programming projects, as it's the proven way to get into your brain and eventually into your very soul. They will make you do things that you would not have if it weren't for their programming.
Perhaps the most infamous form of linguistic programming is 'conspiracy theorist' and its later cousin 'tinfoil hat'. The notion 'conspiracy theory' dates from 1863 but it seemed to have been refound in the 1960s as a way to insta-ridicule anyone who dared question any official narrative. It was proactively pushed, until the programming was complete and the term became a household item to throw at anyone one doesn't agree with. Every now and then, however, it pops up in the media as though they thought a booster shot of this old and tired notion was needed, just to be sure. Even their best words lose their powers over time if not tended to.
A more recent, Dutch specialty has become the use of the derogatory term 'wappie', which doesn't have any real meaning but is close to the original meaning of 'covidiot'. It is used against any citizen who dares to think for themselves, the ones who doubt there's a pandemic, who criticize the measures, the ones who stand up for their basic human rights and those of their children, the ones who organize peaceful protests and get beaten the living hell out of them by senselessly aggressive police thugs, sometimes with serious injuries as a result. These people are scorned, and – incredibly - blamed for the prolongation of the measures. The Dutch minister of Public Health recently stated that he was worried about "wappie sounds" in the parliament, insulting and dismissing just about all the voters to a certain competing party he was referring to, and anyone else who doubts whether the lockdowns, curfews and forced vaccinations really are the solution to the ever growing problems society faces.
And it gets worse. Many people are of the opinion that it's perfectly just that a girl was hit by a water cannon that broke her skull, that a man was worked to the ground, beaten and kicked while also dealing with a police dog, that a lady was pushed in front of a running police van by an undercover police thug, or that Dutch army veterans, who formed a line of defense to protect protesters from police, are assaulted and arrested by the very people they protected or liberated during their military careers. Because according to them "these 'wappies' had it coming and they should abide by the rules". Unfortunately, there are just too many examples to include here.
You'd expect trolls to comment with "haha you stupid wappie" to a social media post about let's say, the trampling of our human rights, the absence of scientific proof that viruses infect, or that radiation is the cause of many diseases. But today it's anyone: mothers, children, grandfathers, nurses, teachers, university professors, politicians: they all seem to have been successfully programmed, and apparently dehumanizing their brothers and sisters is now part of their everyday life. A life that, to them, must be equally unrecognizable from the life they had until a year ago, as it is to us.  
@SmartPrison    Wed 31/03/2021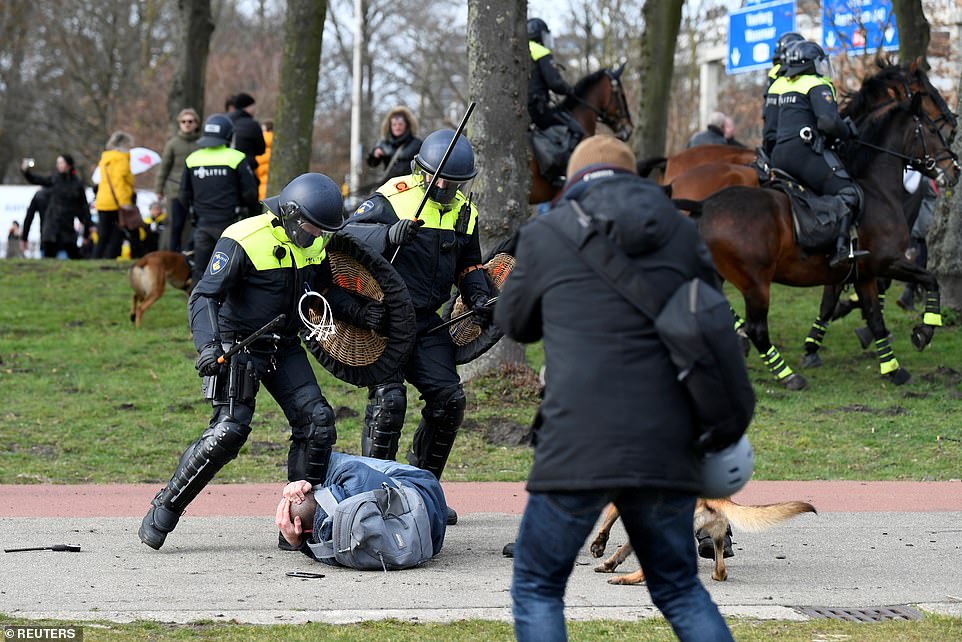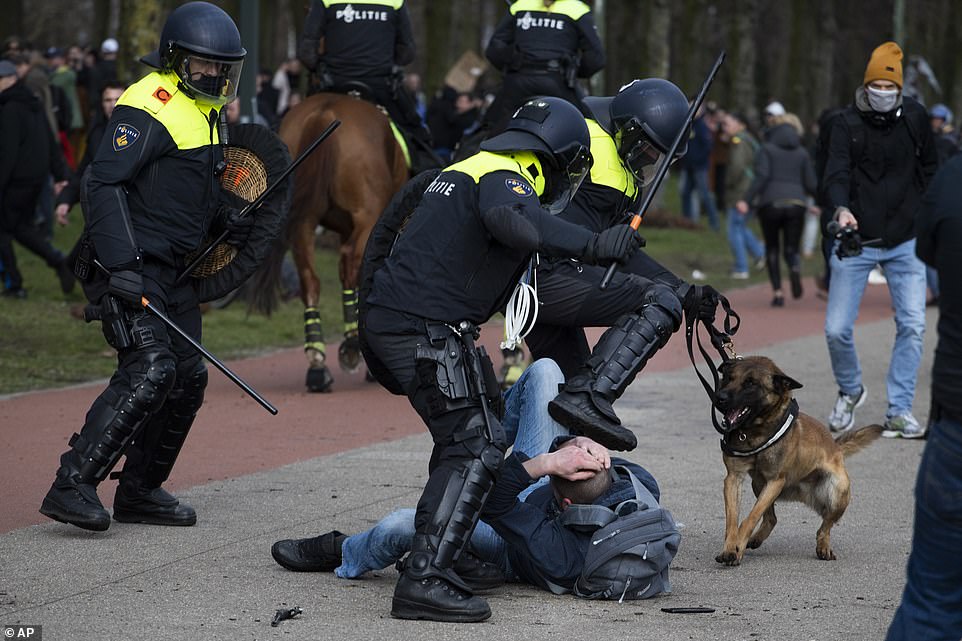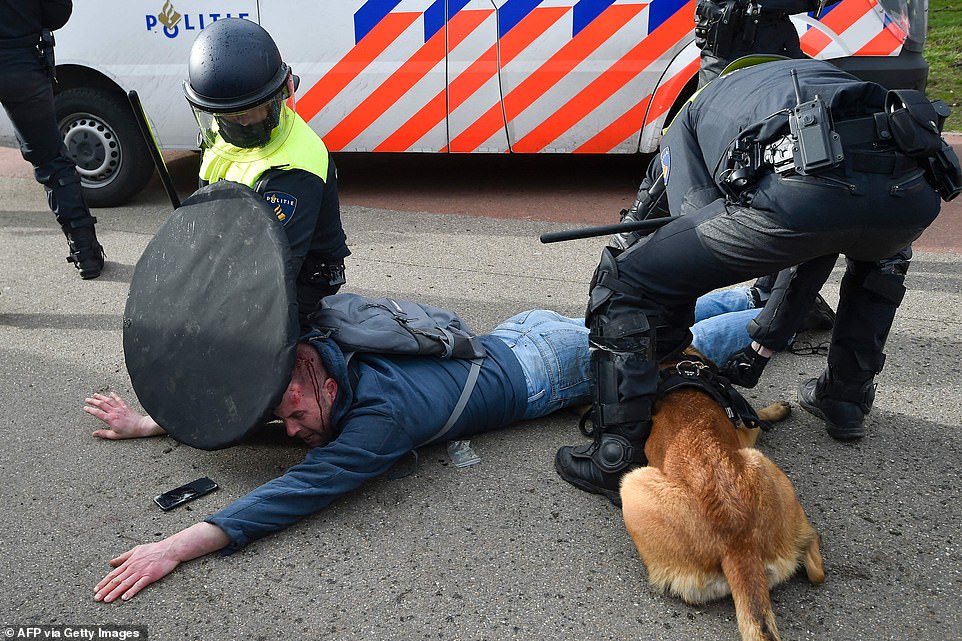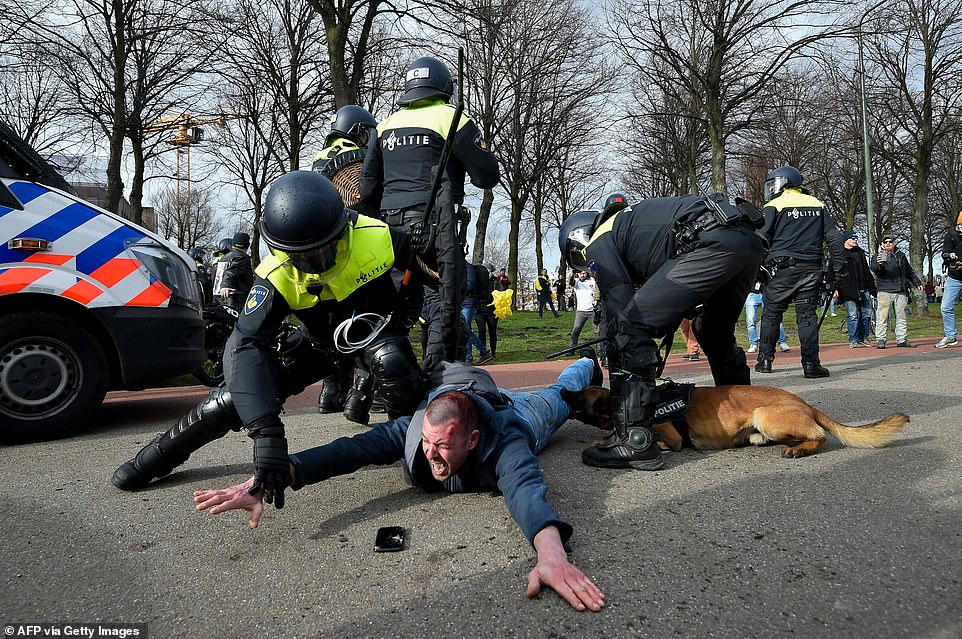 28 March 2021 Amsterdam Protest. Video editor Hugo Gietelink.
The Hague, Dutch veterans try to protect protesters