The same police Camera Land rover has arrived and parked at the end of Donegall Pass,  again blaring out repeated warnings that we are breaking the law.  The volume here sounds a lot louder, actually hurting my ears.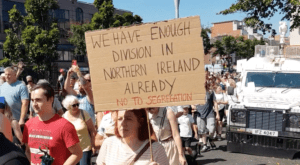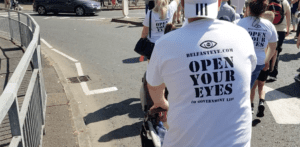 The parade makes its way past the railway station.  The good weather has brought out lots of young people that are enjoying a late lunch/early dinner,  or maybe just a few socially distanced pints.  The parade gets a good reception from most people here.  A lot of smiles, more clapping and some shouts of encouragement.  A young guy with a sound system on a pull along trolly has attracted a good following of people walking and singing along to the Wall by Pink Floyd.  As the crowd makes its way past Dukes hotel, a quick witted chief greets the parade sporting a tinfoil hat.  Some good natured banter is exchanged.  The lorry with the sound system is diverted down University Avenue and the parade begins to split,  with the first few hundred people following the music.  The majority of the crowd continues towards Botanic gardens and through the gates and on to the band stand to regroup.  It takes a while for the speakers to get a sound system organised.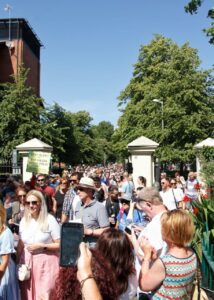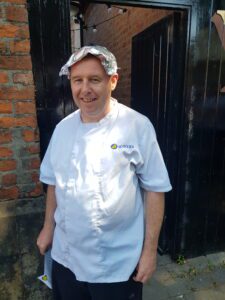 There's about 10-20 minutes of meeting and greeting while waiting on the speakers.  It's nice to hear the sound of laughter and watch the many animated conversations.  Some prepared families have packed food and sit to eat.  Lots of kids running around playing and enjoying the afternoon heat,  not a mask in sight.  There are 4 speakers,  the first starts to speak,  but the sound quality isn't great and can only be heard close to the bandstand.  Plenty of cheers from the people near the front.  Someone arrives and holds a tannoy for the second speaker.  This helps the sound quality and more people push forward towards the bandstand to hear the rest of the speeches.  I thoroughly enjoyed the peaceful protest.  It was a great way to show people not to give up hope.  More people are becoming aware of the establishments lies and are getting off the fence.  The protesters should only grow in numbers,  which is where our true strength lies. 
Remember the Government is meant to serve and protect the people.  Our current system is corrupt.
It's time to start kicking in rotten doors.